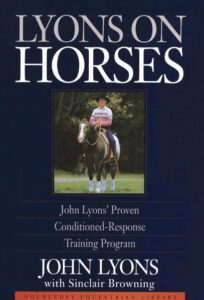 I have had the opportunity to see Lyons-program followers working and I wondered why they looked so distant from their horses. The reading of this book explained it all.
John Lyons understands the mechanics of NH (Natural Horsemanship) but has no feeling with horses, he is not able to communicate with horses _ which is the big difference with Tom Dorrance for instance. John Lyons' understanding of horses is purely mechanic: horses are binary animals, unable to think or feel, unable to understand.
All his program is based on conditioning a horse to give one specific response to one specific cue:
"
If we set up the condition often enough, and we get the same response consistently, then the condition becomes a cue for a specific, desired reaction or response.
Lyons on Horses, John Lyons
Continue Reading →